St. Laserian's Trail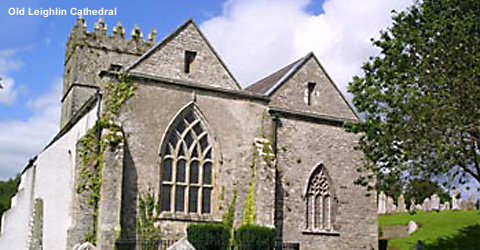 A visit to one of Ireland's finest medieval churches, St. Laserian's Cathedral in Old Leighlin, makes a perfect start to this trail which meanders through the heart of the county towards Myshall at the foot of the Blackstairs Mountains. In Myshall, the visitor can admire the exquisite Adelaide Memorial Church with its exuberant decorative work. The trail also includes the Quaker burial grounds at Ballykealey and Ballybrommell which remind us that the county included communities whose belief systems operated outside the mainstream Catholic and Church of Ireland faiths.
St. Laserian's Trail covers the mid-Carlow area, featuring a number of sites of national significance including the medieval Cathedral at Old Leighlin as well as the impressive Adelaide Memorial Church at Myshall. Enjoy discovering these ancient sites, tucked away in green valleys or up high on open countryside surrounded by an expanse of sky. Perhaps a moment of quiet contemplation will provide insights into the secrets and mysteries contained within.
St. Laserian, sometimes called Molaise, was the founder of the See of Leighlin and its first bishop. He was born about the year 566. He studied in Rome and was sent to preach the word of God in Ireland. In fulfillment of this mission, Laserian visited many parts of Ireland including Leighlin.
Click Here for St. Laserian's Trail on Google Maps: