The Saints of Carlow
The people of passion and piety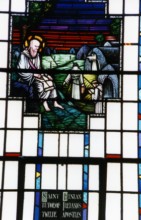 There are at least twenty two early saints associated with Carlow and its area. Some were born and spent their lives here;  others came to be educated or to found monasteries. Some embarked from the county on great missionary endeavours,  such as Willibrord who left the monastic school of Clonmelsh (Garryhundon) in 690 to preach the gospel in the Low  Countries and founded the monastery of Echternach in Luxembourg. Columbanus c.540-615, traditionally believed to  have been born near Myshall, is regarded as the first great Irish missionary on the continent where he founded many  monasteries including Luxeuil in France and Bobbio in Italy.
St. Fintan, known as the 'father of Irish monasticism' spent his early years in Carlow before founding his monastery at  Clonenagh, Co. Laois. St. Fortiarnán (Fortchern) left his native Meath and travelled down to Carlow to set up monastic  communities at Killoughternane and Tullow. He was the teacher of St. Finian, himself known as a great educator. FInian  left his native Carlow to study in Wales before establishing the famous monastery of Clonard in Co. Meath. St. Laserian,  who was from Ulster, studied at Clonard and later came to be abbot of the monastery of Leighlin initiated by St. Gobban c.600.
St. Moling (615-697) founded the monastery at St. Mullins (Tigh Moling) and is associated with several sites in the south Carlow area. In the northeast of the county the monastery at Clonmore had a succession of saintly abbots, including Maedhóc, Oncho and Fionnán Lobhar.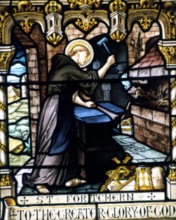 The majority of sites along the routes have associations with one or more of these saints. These associations are sometimes in the form of remains of buildings and monuments linked with saintly foundations but they are also evident in the dedications of later churches and the iconography of stained-glass windows. The saints of early Carlow still play an active role in the religious lives of contemporary Carlovians and indeed contemporary Europeans.