Carlow's convents
8-10. Carlow's convents
A leisurely stroll through the streets of Carlow Town reveals a rich ecclesiastical history. This stretches all the way back to the sixth century when St. Croine Bheag, a female recluse, was associated with the area now known as Templecroney near the Haymarket. Tradition holds that it was she who advised St. Columbanus (see St. Laserian's Trail) to leave home to follow his monastic vocation. There was also an early monastery in Carlow founded by St. Comgal of Bangor.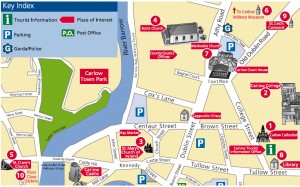 In 1811 the Presentation Sisters arrived in Carlow and founded a convent and school at the junction of Tullow Street and College Street. Primary school children were taught here until the 1960s and the secondary school was open until the mid 1980s. Both moved to purpose built schools elsewhere in the town. The Sisters continued to reside in their convent on Tullow Street until 1989. The buildings now house the Carlow Library, Tourist Office and Museum while the tiny 'nuns graveyard' can still be visited at the rear.
In 1837 the Sisters of Mercy founded St. Leo's Convent, which continues to provide education to the town. In 1893 the Poor Clare sisters came to the town – they moved into their present Monastery beside St. Clare's Church in 1900. Although the order has limited contact with the outside world, visitors are welcome at certain times of the year.