St. Mullins – ecclesiastical ruins
9. St. Mullins – ecclesiastical ruins This important monastery was founded by St. Moling in the seventh century and it had close links with Ferns in Co. Wexford and Glendalough in Co. Wicklow. It has been a place of pilgrimage since medieval times and St. Moling's Well is still venerated for its powers of healing.
DID YOU KNOW
Many stories are still told of St. Moling and his miracles including the digging of a mile long water course with his own hands to power his mill, a task which took seven years.
The ecclesiastical ruins are in the grounds of the Church of Ireland church and they include five churches and the remains of a round tower. The monastery probably contained several high crosses but only the upper portion and base of one solid-wheeled cross remains.  The wheel shows a large figure of Christ.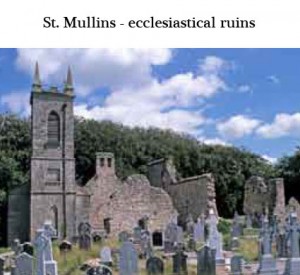 The Teampall Mór is the oldest church, parts of which may date from the tenth or eleventh century. South of the Teampall Mór lies the remains of the largest church, the 'Abbey', which is probably fifteenth century. The chancel+ retains its original altar and sedilia+. To the east of the 'Abbey' is a tiny oratory of uncertain date, dedicated to St James.
To the south are two further structures, probably churches, and probably post-medieval in date. The larger building has an unusual diamond shaped window in the east wall. The smaller building now functions as a mausoleum for the Kavanagh family (descendants of the Mac Murchada kings of Leinster). Here can be seen a modest memorial to King Art Mac Murchada Caomhánach who was poisoned at New Ross in 1417. It is claimed that such was the popularity of Art that as his body arrived in St. Mullins for burial, the funeral procession was still leaving New Ross some 15 km away.
The churchyard lies in the shadow of the Anglo-Norman motte and contains a fascinating collection of eighteenth and nineteenth-century gravestones. During penal times, mass was said in the structure in the graveyard and over the altar is an aperture through which a warning could be communicated to the priest from a watcher positioned on the motte.
Each year on the Sunday before July 25th people gather to celebrate mass at the Penal Altar, and remember the steadfast Catholic faith of their ancestors through difficult periods in Irish history. The eighth-century Book of Moling, which may have been produced in St. Mullins is now in the library of Trinity College, Dublin. It is a very significant illuminated manuscript.