Kellistown – Cill Asna – St. Osnadh's church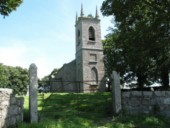 Ruined nineteenth-century 15. Church of Ireland church with remains of medieval church behind. Situated on an  elevated site overlooking rich rural countryside, this ruinous First Fruits church

dates from 1810. It has an  austere simplicity and comprises a three-bay nave

with lime rendered walls and pointed windows, a porch on the north side and a three-stage, west tower with crennelations

and pinnacles. The earliest  church to occupy the site was a monastery associated with St. Osnadh and a round tower survived here until the nineteenth century, when it was removed during the building of the Church of Ireland church.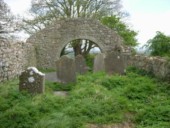 The site has strong associations with St. Patrick and the medieval church - whose remains can be seen behind the nineteenth-century church – was dedicated to him. The remains reveal a large rectangular structure built from granite boulders. There is a small piscina and a large fragment of a finely dressed polygonal font can also be seen. 
In the thirteenth century Kellistown was settled by the Anglo-Normans and the church was given to the Augustinian Priory of Kells, Co. Kilkenny. The present remains probably date from this period. 
Kellistown was the site of several famous battles including one in 1398 when Roger Mortimer, Royal Lieutenant of Ireland was killed while doing battle with the O'Byrnes and other Gaelic chiefs.

Open: Daily, daylight hours
Admission: Free
Parking: Yes

 First Fruits Church: A Church of Ireland church whose building was financed by the Board of First Fruits established largely through the influence of Jonathan Swift (1667 – 1745).

 Nave: The main aisle of a church, occupied by the congregation.

 Crennelation: Notched parapets, resembling those on a stone castle.